Below you can find up to date, detailed share price and dividend information
You can also find details on our shareholder structure and analyst coverage, and access our current consensus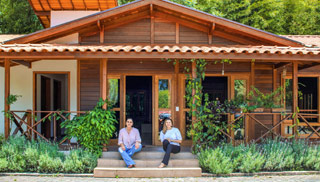 Download
Symrise Factbook 2021
Symrise Factbook
latest version
Shareholder structure according to voting right notifications
The date is Symrise AG's notification date. The investor's name refers to the marketing name of the investment company.
| | | | | |
| --- | --- | --- | --- | --- |
| Investor | Share Ownership in % | Voting rights | Notification date | Notification dated |
| Massachusetts Financial Services Company (MFS) | 9.96 | 13,492,530 | Nov 12, 2019 | Nov 06, 2019 |
| BlackRock Inc. | 6.78 | 9,476,485 | Aug 22, 2022 | Aug 17, 2022 |
| Horst-Otto Gerberding | 5.024 | 7,022,531 | Nov 03, 2021 | Nov 02, 2021 |
| Canada Pension Plan Investment Board | 4.85 | 6,776,050 | Sep 24, 2021 | Sep 21, 2021 |
| Ministry of Finance on behalf of the State of Norway | 3.04 | 4,251,960 | Jul 13, 2022 | Jul 12, 2022 |
| APG Asset Management N.V. | 3.01 | 3,909,723 | Aug 14, 2015 | Aug 12, 2015 |
| | | | | |
The percentages relate to the total number of shares issued on the notice date.
The current number of Symrise shares is 139,772,054.
As of August 2022
Current consensus
Symrise is covered by various national and international financial analysts. The consensus reflects their earnings projections for Symrise and is important guidance for the capital market.
Symrise is covered by various national and international financial analysts. The consensus (majority of opinion) reflects their earnings projections for Symrise and is an important guidance for the capital market.
In terms of transparency and equal treatment Symrise publishes the latest consensus here on the website.
The consensus contains forward-looking statements, which are based on the current estimates and assumptions exclusively given by the participating analysts. Forward-looking statements are not to be understood as in any way guaranteeing that those expectations will turn out to be accurate. Future performance and the results actually achieved by Symrise AG and its affiliated companies depend on a number of risks and uncertainties such as the future economic and market environment. Many of these factors are outside Symrise's control and cannot be accurately estimated in advance.
The consensus is not controlled, changed or censored by Symrise. Therefore Symrise shall not be liable for any derogation between the consensus and the company's financial results.
Disclaimer:
This document has been issued by Vara Research GmbH for information purposes only and is not intended to constitute investment advice. It is based on estimates and forecasts of various analysts regarding revenues, earnings and business developments of Symrise AG. Such estimates and forecasts cannot be independently verified by reason of the subjective character. Vara Research GmbH gives no guarantee, representation or warranty and is not responsible or liable as to its accuracy and completeness.
Analyst's coverage
AlsterResearch
Thomas Wissler
Baader Helvea
Andreas von Arx
Bank of America
Matthew Yates
Berenberg Bank
James Targett
Bernstein
Gunther Zechmann
Citigroup
Mubasher Chaudhry
Credit Suisse
Samuel Perry
Deutsche Bank
Virginie Boucher-Ferte
Exane BNP Paribas
Heidi Vesterinen
Goldman Sachs
Georgina Fraser
Jefferies
Charlie Bentley
J.P. Morgan
Celine Pannuti
Kepler Cheuvreux
Patrick Roquas
Morgan Stanley
Lisa de Neve
Société Générale
Thomas Swoboda
Warburg Research
Oliver Schwarz
Contact us

Tobias Erfurth
Head of investor relations

Gresa Latifi
Investor Relations

Working Student Investor Relations (m/w/d)
Read more
Symrise AG – share price
€107.25
2.85 (2.59%)
Read more
Jan 17, 2019
Symrise updates long-term targets until 2025
— Target corridor of 5 to 7 % for average annual sales growth (CAGR) — Increased profitability with EBITDA margin in the range of 20 to 23 % from 2020 onward — Continuation of successful strategy — Expansion of portfolio and sharpening the product mix: focus on high-margin applications — Updated targets for sustainability balance planned.