Symrise AG was once again among the fastest-growing and most profitable companies in its sector in 2015. The Group experienced strong demand in both segments and all regions and increased sales by 23 % (18 % at local currency) to € 2,601.7 million (2014: € 2,120.1 million). EBITDA also showed strong growth and rose by 23 % to € 572.2 million (normalized EBITDA in 2014: € 464.5 million). The EBITDA margin increased to an outstanding 22.0 % (2014 normalized: 21.9 %).
Dr. Heinz-Jürgen Bertram, CEO of Symrise AG, said: "In 2015 it was our decisive goal to substantially grow our business. We made targeted investments in growth and in expanding our competencies and know-how. Our portfolio clearly shows the benefits: It has expanded beyond our traditional product range and allows us to serve new, strategic business areas such as functional ingredients for everyday products. In 2015 we were once again one of the fastest-growing companies in our industry." He added, "A priority for us in 2016 is the cross-linking of our extensive expertise. In this way we will not only continue on track for success but also extend our competitive edge with a widely diversified portfolio."
Double-digit sales growth in all regions
Symrise benefited in the year under review from high capacity utilization and strong demand in all regions. Sales increased to € 2,601.7 million (2014: € 2,120.1 million). This represents growth of 23 % in reporting currency and 18 % at local currency. The Diana Group, which was acquired in mid-2014 and is now fully integrated, contributed sales of € 524.8 million (2014: € 233.9 million). Excluding the contribution of Diana, Symrise also generated strong sales growth with 10 % in reporting currency and 6 % at local currency.
Above-average growth in Emerging Markets
Symrise substantially expanded its position in Emerging Markets. In these fast-growing markets the Group increased its sales by 21 % (local currency) and generated 46 % of its total sales (2014: 47 %). The decrease as compared to the previous year reflects the regional sales mix of the Diana Group, which generates a higher sales proportion in Developed Markets.
Excellent profitability with EBITDA margin of 22.0 %
Symrise grew its EBITDA by 23 % to € 572.2 million (2014 normalized: € 464.5 million). The EBITDA margin rose to 22.0 % (2014 normalized: 21.9 %).
Symrise increased its net income in the year under review by 17 % to € 246.8 million (2014 normalized: € 211.6 million). Earnings per share increased from € 1.69 (normalized) to € 1.90, or 13 % as compared to the previous year.
In view of the strong performance, the Management Board and Supervisory Board propose a dividend of € 0.80 for the 2015 fiscal year (2014: € 0.75).
Increase in operating cash flow
The operating cash flow rose to € 375.2 million in 2015 (2014: € 343.2 million), reflecting the strong operating result. At 31 December 2015, the ratio of net debt, including pension reserves, to EBITDA amounted to 2.8 (normalized as at 31 December 2014: 3.2). The equity ratio increased from 35.8 % at the end of 2014 to 38.0 % at 31 December 2015. Symrise is thus very well positioned financially.
Scent & Care segment
The Scent & Care segment achieved sales of € 1,073.7 million in 2015 (2014: € 980.4 million). This represents an increase of 10 % (4 % at local currency). All business divisions contributed to growth, in particular Aroma Molecules and Cosmetic Ingredients. Symrise benefited above all from strong demand for menthol and cosmetic active ingredients.
Scent & Care grew its EBITDA by 4 % to € 231.2 million (2014: € 222.9 million). The EBITDA margin remained high, at 21.5 %, despite additional expenses for research and development and marketing initiatives in the fourth quarter (2014: 22.7 %).
In January 2016 Symrise expanded its fragrance activities with the acquisition of US-based Pinova Holdings, Inc. This has given the company access to additional natural ingredients which are used in perfume compositions. Moreover, Symrise has expanded its forward integration in menthol to include cooling substances for oral care.
Flavor & Nutrition segment
Flavor & Nutrition experienced a substantial 34 % increase in sales (31 % at local currency) and benefited in particular from strong demand for beverages and savory applications. Diana Group also achieved strong growth, especially with pet food and aquaculture applications. Excluding Diana, sales increased by 11 % (8 % at local currency).
EBITDA in this segment staged by 41 % to € 340.9 million (2014 normalized: € 241.6 million). The EBITDA margin rose to 22.3 % (2014 normalized: 21.2 %).
Good starting point for 2016 – mid-term targets confirmed
Symrise expects the economic environment for the current fiscal year to be challenging. Ongoing political conflicts in certain regions, heavy debt burdens of some countries and the low oil price are weighing down the global economy. With its worldwide presence and its diversified portfolio, the Group believes that it is very well positioned to continue its profitable growth course.
Symrise aims at outperforming the global F&F market in 2016, both at the Group level and in both segments. The Company has made a good start in the current fiscal year and will capitalize growth opportunities in Developed and Emerging Markets. Consequently, Symrise remains fully committed to the mid-term objectives extending to the end of 2020, namely a compound annual growth rate (CAGR) of 5–7 % and an EBITDA margin of 19–22 %.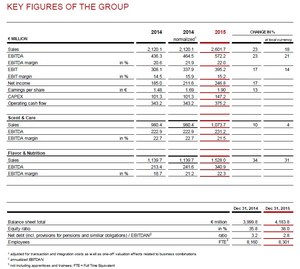 About Symrise:
Symrise is a global supplier of fragrances, flavors, cosmetic active ingredients and raw materials as well as functional ingredients. Its clients include manufacturers of perfumes, cosmetics, food and beverages, the pharmaceutical industry and producers of nutritional supplements and pet food.
Its sales of more than € 2.6 billion in 2015 place Symrise as one of the global leading companies in the flavors and fragrances market. Headquartered in Holzminden, Germany, the Group is represented in over 40 countries in Europe, Africa and the Middle East, Asia, the United States and Latin America.
Symrise works with its clients to develop new ideas and market-ready concepts for products that form an indispensable part of everyday life. Economic success and corporate responsibility are inextricably linked as part of this process. Symrise thus takes sustainability into account in every part of its corporate strategy. The company was awarded the German Sustainability Award in 2012. In 2013, Symrise was certified as a "Green Company" by DQS.
Symrise – always inspiring more…
Media contact:
Bernhard Kott
Tel. +49 (0)5531 90-1721
bernhard.kott@symrise.com
Investor contact:
Tobias Erfurth
Tel. +49 (0)5531 90-1879
tobias.erfurth@symrise.com