Symrise AG exceeded its targets for the fiscal year 2016. The Company benefited from strong demand across all segments and regions, increasing its sales by 12 % (local currency:
16 %) to € 2,903.2 million (2015: € 2,601.7 million). Normalized earnings before interest, taxes, depreciation and amortization (EBITDAN) grew by 9 % to € 625.2 million (2015: € 572.2 million). Despite investments to capacity expansions and portfolio diversification Symrise operated highly profitable, with an EBITDAN margin of 21.5 % (2015: 22.0 %).

"In the fiscal year 2016, Symrise continued with its highly dynamic and profitable growth course while making targeted investments to expand its portfolio, competencies and capacity. Furthermore, we expanded our business segments to give them more flexibility. With our advanced and unique structure, we are able to best possibly address future customer needs and identify market opportunities early on. This foresight has been a defining feature of our approach for more than a decade and gives us a clear competitive edge. We want our shareholders to participate in this success. At the Annual General Meeting, the Executive Board and Supervisory Board will propose a dividend of € 0.85 per share for the fiscal year 2016," said Dr. Heinz-Jürgen Bertram, CEO of Symrise AG. "For 2017, we remain optimistic despite political changes and tensions in some countries. We have a presence in more than 40 countries, a widely diversified portfolio, and highly engaged employees. We aim at continuing our highly profitable growth course and remain one of the leading companies in our industry."
Strong sales growth again
Symrise benefited from robust demand across all regions and segments in 2016. Sales increased by 12 % year-on-year in reporting currency to € 2,903.2 million (2015: € 2,601.7 million). In local currencies, the increase amounted to 16 %. Excluding portfolio effects from acquisitions in the areas of fragrances and nutrition and from the divestment of Pinova's industrial activities, organic sales growth in local currency amounted to 8 %. As a result, Symrise posted substantially stronger growth than the relevant market for flavors and fragrances, which grew around 3 % for 2016 according to market estimates.
Double-digit growth in Emerging Markets
As part of its proven corporate strategy, Symrise continued to expand its presence in Emerging Markets and intensified cooperative activities with strategic customers in those markets. This led to a 15 % increase in the Group's Emerging Market sales, which accounted for 43 % of total sales (2015: 46 %). Compared to the prior year, the sales share of those markets has been a bit lower as the companies acquired in 2016 have a stronger market presence in the Mature Markets.
Robust profitability with EBITDAN margin of 21.5 %
Symrise raised its EBITDAN by 9 % to € 625.2 million (2015: € 572.2 million). Despite investments in portfolio diversification, the profitability is at a very good level: The EBITDAN margin of 21.5 % (2015: 22.0 %) exceeded the targeted level of more than 20 %.
The normalized net income grew to € 265.9 million (2015: € 246.8 million) which represents an increase of 8 %. Earnings per share on a normalized basis grew by 8 % from € 1.90 to € 2.05. The reported earnings per share amounted to € 1.95. At the annual general meeting on 17 May 2017, the Executive Board and Supervisory Board will propose a dividend increase to € 0.85 per share (2015: € 0.80) for the fiscal year 2016.
Operating cash flow reflects strategic build-up of inventories
The cash flow from operating activities amounted to € 338.8 million. The decrease of € 36.4 million(€ 375.2 million) compared to 2015 is mainly due to an increase of inventories as well as higher prices of certain natural raw materials.
As of 31 December 2016, the ratio of net debt, including pension provisions, to EBITDAN stood at 3.1 (31 December 2015: 2.8). With an equity ratio of 36.4 % at 31 December 2016 (31 December 2015:
38.0 %), Symrise has a solid basis for its future development of the business.
Segment expansion following dynamic business development
In 2016, Symrise expanded its organizational structure to grant the individual segments greater flexibility in developing their business activities. Along with this, a three-segment structure was established and two new members were appointed to the Executive Board.
The activities of the former Flavor & Nutrition segment are now carried out by two separate segments. The Flavor segment includes applications for beverages, savory products, and sweets. The Nutrition segment comprises the Diana division with the application areas of food, pet food, Aqua and Probi. Scent & Care continues to combine the areas of fragrances, cosmetic ingredients and aroma molecules. Fragrances, with its application fields of fine fragrances, personal care, oral care and home care, was reorganized into global units in 2016.
Scent & Care segment
Sales in Scent & Care increased from € 1,073.7 million to € 1,311.3 million. This represents a plus of 25 % in local currency. At reporting currency, sales grew by 22 %. Excluding the effects from Pinova, sales were up 5 % in local currency.
All of the business segments contributed to this growth. The strongest gains were posted by the Aroma Molecules division. Furthermore, the segment benefited from strong demand for menthol and fragrances. The products of the Pinova Group, which was acquired in 2016, also generated additional sales. The Pinova industrial division, which manufactures products such as adhesives and paints and is therefore not part of Symrise's core business, was sold off in the fourth quarter of 2016.
Scent & Care increased the normalized EBITDA by 12 % to € 257.8 million (2015: € 231.2 million). The normalized EBITDA margin was 19.7 % (2015: 21.5 %). The temporary decline resulted from the fragrance business of the Pinova Group, whose profitability does not match entirely the level of the Symrise Group yet.
Flavor segment
Sales in the Flavor segment increased by 4 % to € 1,015.9 million (2015: € 980.2 million). In local currency, sales grew by 10 %. At € 233.8 million, EBITDA for the reporting period was significantly higher than in the previous year (2015: € 218.9 million). The EBITDA margin improved significantly to a very good level of 23.0 % (2015: 22.3 %).
All regions achieved substantial growth. The segment benefited in particular from strong gains in the application areas of sweets and beverages.
Nutrition segment
Nutrition posted a 5 % plus in sales to € 576.0 million (2015: € 547.8 million). At local currency, sales grew by 9 %. Excluding portfolio effects, the segment achieved a 10 % organic increase in sales in local currency. In the Diana division, the biggest contributions came from pet food applications, where sales increased substantially in all regions.
Symrise also added new competencies in the Nutrition segment through acquisitions in 2016. In January the Diana division acquired a majority stake in the Dutch company Scelta Umami Holding BV. The Group specialized in the manufacturing and distribution of mushroom concentrates. In May, Diana also acquired Nutra Canada, whose products include in particular fruit and plant extracts with supplementary functional benefits. The business unit Probi acquired Nutraceutix, an important supplier and manufacturer of probiotics in North America.
During the reporting period, the Nutrition segment increased its EBITDA to € 133.7 million (2015:
€ 122.0 million). The EBITDA margin reached an outstanding 23.2 % (2015: 22.3 %).
Symrise looks ahead to 2017 with confidence
The economic environment in the current fiscal year is expected to be more challenging than in the previous year. It appears likely that the geopolitical tensions between certain states will persist, and some countries will continue to struggle with debt. With its global presence, however, Symrise believes that it is well positioned to balance out the regional differences. Symrise also expects to overcome the volatility of various raw material prices to a very large extent through its broad access, in particular to natural ingredients, and through its backward integration in key raw materials.
Consequently, Symrise is optimistic to continue its sustainable profitable growth in 2017. Symrise again aims to substantially outperform the relevant market, where growth of around 3 % is forecasted. Moreover, the Company intends to remain highly profitable with an EBITDA margin of around 20 %.
Symrise remains fully committed to the mid-term objectives extending to the end of 2020, namely a compound annual growth rate (CAGR) in the range of 5 to 7 % and an EBITDA margin of between
19 and 22 %.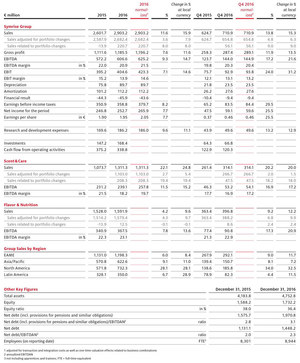 About Symrise:
Symrise is a global supplier of fragrances, flavorings, cosmetic base materials and substances as well as functional ingredients. Its clients include manufacturers of perfumes, cosmetics, food and beverages, the pharmaceutical industry and producers of nutritional supplements and pet food.
With sales of more than € 2.9 billion in 2016, Symrise is among the global leaders in the market for flavors and fragrances. Headquartered in Holzminden, Germany, the Group is represented in over 40 countries in Europe, Africa and the Middle East, Asia, the United States and Latin America.
Symrise works with its clients to develop new ideas and market-ready concepts for products that form an indispensable part of everyday life. Economic success and corporate responsibility are inextricably linked as part of this process. Symrise – always inspiring more…
Media contact:
Bernhard Kott
Tel. +49 (0)5531 90-1721
bernhard.kott(at)symrise.com

Investor contact:
Tobias Erfurth
Tel. +49 (0)5531 90-1879
tobias.erfurth(at)symrise.com
Social Media:
twitter.com/symriseag
linkedin.com/company/Symrise
youtube.com/agsymrise
xing.com/companies/symrise