Alongside the video game and entertainment electronics trade fair, gamescon, Cologne Cathedral is transforming itself into a sense-tingling center of tranquility from Thursday to Saturday under the title of "SilentMOD." Marc vom Ende, Senior Perfumer for the international fragrance producer Symrise, developed the scent Incense 2.0 especially for this event in collaboration with Professor Hanns Hatt of the Ruhr University Bochum. This especially created fragrance composition, which combines 50 different components such as frankincense, myrrh, vanillin and fruit oils, discretely emanates around the cathedral, combining perfectly with the light installation and the electronic music composed for this occasion, ensuring that visitors to Cologne Cathedral have all of their senses stimulated at the same time.
In gaming slang, "SilentMOD" refers to a change to a quiet mode. When read backwards, the second part of the word, MOD, reads as DOM, the German word for cathedral. Hanns Hatt, Chaired Professor of Cell Physiology at the Ruhr-Universität Bochum and expert in neurophysiology and sensory physiology, gave his expertise for the project's fragrant accompaniment. In partnership with Professor Hatt, Marc vom Ende, Senior Perfumer at Symrise, developed the modern cathedral scent for the SilentMOD event. The Senior Perfumer has been creating exclusive fragrances and essences for the globally active fragrance producer from Holzminden for over 25 years.
The goal of this joint project was to develop a thought-provoking scent that creates a unique experience for those who encounter it. The requirements for this scent were very explicit. People should instantly be able to associate it with "church," and at the same time it should be pleasant to smell. Incense 2.0 should also evoke a sense of peace and calm, while also providing a boost of spiritual freshness. "There are very different associations to scents among different cultural and societal traditions. Our local environment forms who we are from an early age and this gives certain smells positive or negative connotations. Creating a sacred but modern scent for a building as large as Cologne Cathedral is an exciting challenge," said vom Ende.
The perfumer decided to combine well-known and traditional biblical elements such as frankincense and myrrh with fresh fruity components. The scent therefore evokes a sense of reminiscence, while also bringing a surprising and new aspect to the scent experience. It was thus important for the church scent to smell of more than one particular fruit, and so vom Ende combined orange oil and cold-pressed lime oil, along with other ingredients. The two aspects work together to create a fresh, stimulating note that is not just attributable to one individual fruit. It is therefore not the orange or the lime that stands out, but the freshness associated with them, along with an eastern Mediterranean feel – the birthplace of church tradition.
Incense 2.0 greets visitors right at the door of the cathedral. As they enter the impressive building, they encounter music and scent along a virtual laser tunnel. Using a diffuser, the church scent intensifies at certain points inside the cathedral. The scent is thus stronger by some of the altars, but in other places is only barely discernible. Visitors who want to enjoy the scent outside the cathedral or after the SilentMOD can continue their experience by obtaining scent cards.
The SilentMOD project is taking place alongside the gamescon from August 18 to 20, 2016, and aims to connect with young adults. On these evenings, Cologne Cathedral will open its doors to young people in particular. By combining tradition with modernity, the project aims to offer a moment of peace and reflection to the 400,000 gamescom visitors. Symrise is supporting the project and the atmosphere by providing this modern scent and thereby ensuring a unique scent experience in a remarkable location. Entrance to the SilentMOD is free. The "modded" cathedral is open to anyone who is interested.
Photos:

Caption: Conversation between Marc vom Ende - Symrise perfumer - and Hanns Hatt - University Bochum - about the Cologne cathedral project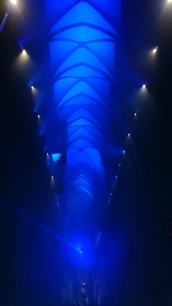 Caption: Laser show in the Cologne cathedral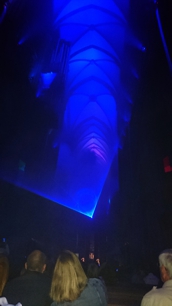 Caption: Laser show in the Cologne cathedral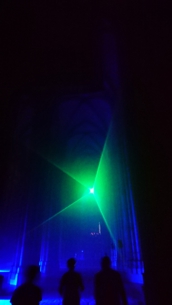 Caption: Laser show in the Cologne cathedral
About Symrise
Symrise is a global supplier of fragrances, flavorings, cosmetic active ingredients and raw materials, as well as functional ingredients. Its clients include manufacturers of perfumes, cosmetics, food and beverages, the pharmaceutical industry and producers of nutritional supplements.
With sales of € 2.602 billion in the 2015 fiscal year and a market share of twelve percent, Symrise is among the top three suppliers in the global flavors and fragrances market. Headquartered in Holzminden, Germany, the Group is represented with 40 locations in over 35 countries in Europe, Africa, the Middle East, Asia, the United States and Latin America.
Symrise works with its clients to develop new ideas and market-ready concepts for products that form an indispensable part of everyday life. Economic success and corporate responsibility are inextricably linked as part of this process. Symrise thus takes sustainability into account in every part of its corporate strategy. DQS certified Symrise as a "Green Company" in 2013.
Symrise, always inspiring more...

Media Contact:
Bernhard Kott
Phone: +49 5531 90-1721
E-mail: bernhard.kott@symrise.com
Christina Witter
Phone: +49 5531 90-2182
E-mail: christina.witter@symrise.com
Social Media:

twitter.com/symriseag
linkedin.com/company/Symrise
youtube.com/agsymrise
xing.com/companies/symrise