Sustainably into the future
Dr. Helmut Frieden, Corporate Sustainability
When the Act on Corporate Due Diligence Obligations in Supply Chains entered into force in July 2021, we were well prepared. The act regulates the responsibility of German corporations for ­human rights and environmental protection along the global supply chain. We had already established our Responsible Sourcing Steering Committee (RSSC) in April, which collaborates with our Corporate Sustainability department, divisional purchasing managers and their sustainability officers. This committee will evaluate our raw material suppliers and indirect suppliers, such as service providers and packaging material suppliers, in terms of risks and opportunities relating to sustainability.
We will invite an increasing number of these companies to be part of the collaborative exchange of supplier data on the SEDEX and EcoVadis platforms in order to get a better overview of their sustainability. Moreover, the RSSC will encourage our raw material suppliers to take part in the CDP Supply Chain program, in which we have already participated for five years. In 2021, 60 % of the suppliers that we contacted took part in the programs for protecting the climate, water and forests. More than 70 % of suppliers have already defined their climate goals and the measures undertaken have saved three million tons of CO2.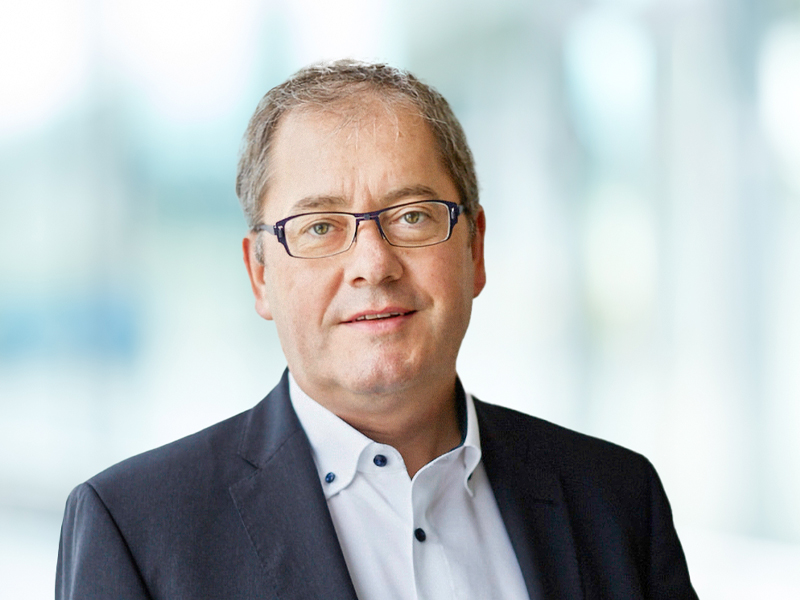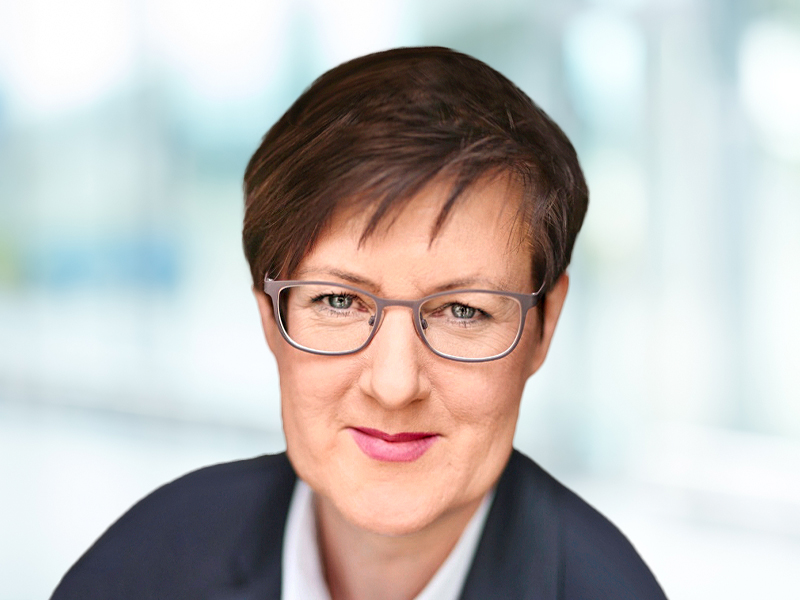 Doris Gattermann, Corporate Sustainability
Climate change is progressing, and I am convinced that the only way we can overcome the huge challenges we all face is if we act together. It's not enough for a few people to reduce their waste to zero, use alternative energies or shop consciously. Billions of people must commit to doing what they can, even if they can't do it perfectly. We cannot wait for the one big solution. We must simply begin, even with small steps.
To support this approach, we created the Ambassador Network at Symrise. We are kindred spirits whose passion for sustainability connects us across divisions and regional borders. More than 150 colleagues are now participating, and they are dedicated to making the topic of sustainability vivid and tangible. We are discussing what we can do, as Symrise employees and also privately. We organize informational events and start up local and cross-regional projects around the world. One great project is our "Lunch for Change" cookbook, created as part of a project week around UN Food Day in 2020, for which we asked our colleagues to provide their favorite sustainable recipe. In the book, there are lots of tasty ideas that simultaneously reinforce our commitment to more sustainability.
Sascha Liese, Corporate Sustainability
Biodiversity – the diversity of species and ecosystems – is important for us in two ways: It serves as an inspiration and a model for the development of fragrance ingredients and aromas, and it also serves us as a rich source of raw material. At Symrise, we use botanical rarities gathered in the wild of the Amazon rainforest, fragrant and aromatic plants from small-scale farming in Madagascar and Indonesia, and numerous raw materials and byproducts from agriculture, forestry, fisheries and aquaculture. 90 % of our diverse raw material portfolio consist of materials that originate in natural or managed ecosystems. This makes biodiversity a natural source of capital for us, which is important for the success of our business.
To support this diversity, we must take an equally diverse range of measures since, unlike the climate, biodiversity is highly context-­specific. Whereas in the Amazon we must be careful not to overuse the wild populations when harvesting natural ingredients, in our Indonesian patchouli project we must primarily improve the biology and structure of the soil in order to maintain the productivity of the crop system. In Madagascar, on the other hand, it's important to us to engage in reforestation and fight soil erosion. We have made a principle out of this: Around the globe, we make sure we recognize the material risks for biological diversity in the local context of our intervention projects in strategic supply chains, so we can develop tailored solutions to manage them.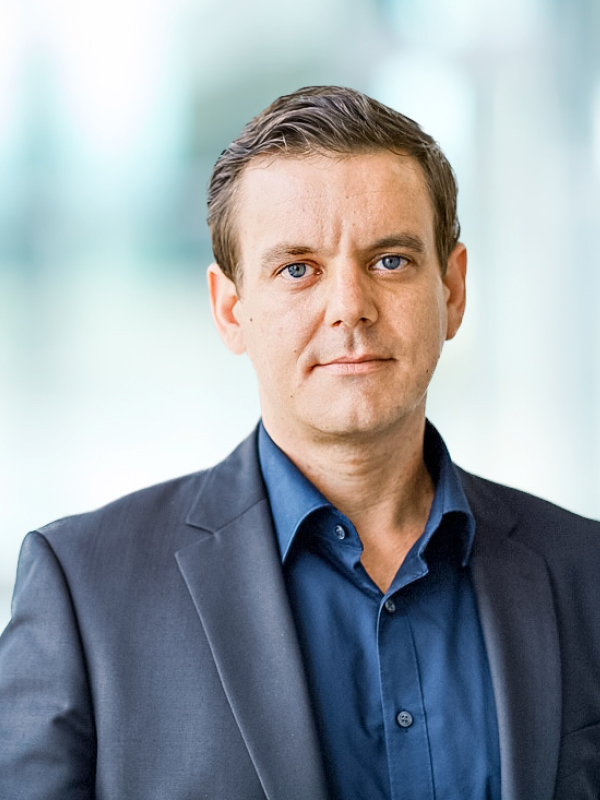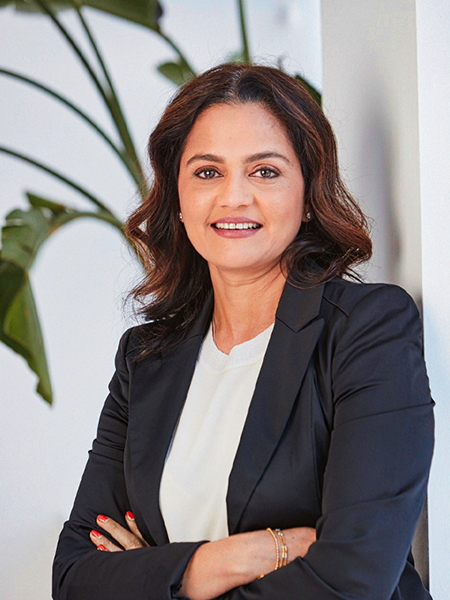 Shilpa Panicker, Vice President Global Oral Care, Scent & Care segment
Natural mint oils are one of the key ingredients we offer for toothpastes and mouthwashes, chewing gum and confectionery. Mentha Arvensis is one such mint oil cultivated by over a million small-scale producers in Uttar Pradesh, India. The supply chain is unique as there are several small holder farmers who often depend on intermediaries, and cannot yet dependably earn a living income.
Mint India is a transformative initiative, we have launched as a multistakeholder project that will allow us, alongside Mars, Tanager and the German Society for International Cooperation (GIZ) to improve farmers' lives and also cultivation practices. We are leveraging our diverse range of experiences in backward integration developed in our Bridging The Gap projects in Madagascar, Brazil and the Philippines.
Within a short period of time, 25,250 farmers are benefitting from the program. They receive comprehensive education on good agricultural practices (GAP) like crop rotation techniques and water management – these and various other measures can make cultivation significantly more sustainable. The farmers also gain access to processing and distillation techniques and ­financing through cooperatives. This means they can increase their productivity by 34 % and their income by 157 % per hectare. In addition, we also have several women and youth who are engaged in this program leading to higher empowerment for the individuals and enhanced quality of life for the families. Symrise also has a lot of advantages: The supply chain for incoming raw material is transparent and traceable, robust and sustainable. This has generated a lot of interest amongst our leading oral care customers, especially so as consumers today want to make a difference to the planet and demand greater transparency around what's in their products.
Susanne Borchert, Senior Global Marketing Manager for Aroma Molecules, Scent & Care
The scent of lily of the valley is needed as a middle note in numerous fragrance creations. However, it is almost impossible to capture the scent of the real flower. While there is already a wide range of fragrance ingredients that can reproduce the characteristics of the smell of lily of the valley, some of them lack facets. That's why we have developed a new sustainable fragrance molecule called "Lilybelle®," which is a great addition to the variety of lily of the valley fragrances. It combines watery, ozony and green facets with a floral lily of the valley note. Lilybelle® is an ingredient in many com­positions, which in turn are used in fine fragrances, personal care products such as body lotions, shower gels and soaps, or in household and textile care products.
Not only does Lilybelle® have a profile that is in demand, but its production is also special. Symrise produces the fragrance molecule according to the principles of green chemistry by using sustainable D-limonene, which is a byproduct of orange juice production. In the process, several catalytic steps minimize the environmental footprint. The result is that Lilybelle® has a high sustainability factor. 83 % of the carbon atoms in the molecule come from renewable raw materials. It is also easily biodegradable, so it quickly breaks down into harmless components in the environment.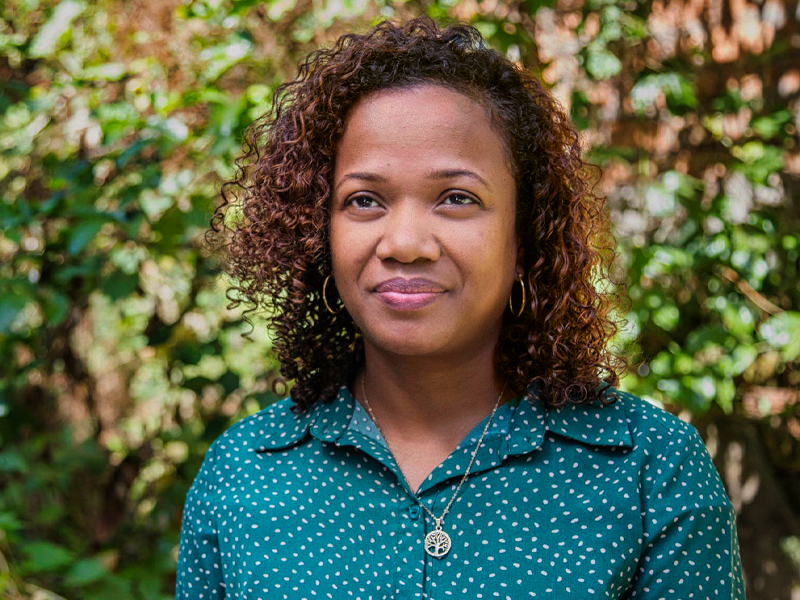 Fanny Rakotoarivello, research and development of aromatic plants in Madagascar
Vanilla is the main source of income for farmers in the SAVA region of Madagascar. However, they often don't earn enough with it to provide for their families for an entire year. It was important to us to help them earn regular income so they can be independent of money lenders and improve their standard of life.
We are therefore helping the farmers diversify their crops – for instance, with ginger, vetiver, mandarin oranges, patchouli, different kinds of pepper and bay leaves. These vary from region to region, depending on soil conditions and other environmental factors. Our support provides them with seedlings and young plants, offers training sessions on agricultural techniques, helps them tap into markets, ensures traceability back to the farm, and creates pathways to various certifications such as UEBT, Rainforest Alliance, UTZ, organic and Fair Trade.
Symrise also benefits from this: Since the farmers have additional income from the other crops, they can, for example, wait until the ­vanilla is fully ripe and provides the best quality before harvesting it. At the same time, through our on-site research and development, we can use the wide variety of raw materials to compile a sustainable, high-quality portfolio. Since a large part of my work consists of communicating with local producers and supporting them in the technical processes, I see how both sides continue to benefit.
Regine Lueghausen, Vice President Global Marketing Food & Beverage
Nowadays consumers have increasingly growing expectations towards food – therefore we offer only high-quality taste solutions. To create these, we have always relied on science-based taste creation. With proprietary Symrise upcycling technologies like SymTrap® we can harvest natural ingredients sustainably and constantly expand our rich library of innovative raw materials.
Gas chromatography (GC), olfactometry and our in-house LC-Taste® are also key technologies used by Symrise experts to identify flavorings. Furthermore we use so-called "artificial mouths" to assess the performance of a flavor when it is eaten, e.g. taking into account the impact of saliva and mouth temperature. On top of that we also use artificial intelligence. Leveraging predictive modeling, it helps us to scan our portfolio at extremely high speed for suitable ingredients with desired characteristics.
These and several other future-oriented technologies work in synergy and perfectly complement the abilities of our employees. They can identify ingredients and creatively produce new com­positions. We also rely on expert and consumer panels, which help to match our products with consumer preferences. Through the combination of science and artistry, we support customers by developing natural and innovative taste solutions delivering against consumer needs.
Nicolas Balon, Project Engineer for Symrise Pet Food in the Asia/Pacific region
The APAC market for pet food is dynamic and very attractive, and it is expected to grow by a significant 19 % between 2021 and 2026. It is a tremendous opportunity for us and with our high-­value solutions, we are willing to make an incredible contribution to this growth! In order to be able to answer this market demand, we had to expand our former plant . That's why we decided to build a new, state-of-the-art production site at a different, much larger location in the same city of Chuzhou.
From there, we can now process our natural raw materials into the best products for our customers. We use fresh or frozen chicken and beef byproducts and, for special recipes, fish processing sidestreams to produce powder and liquid products. We have also equipped the plant with a large product development center and all the lab equipment our analysts need. As the first site in the Asia/Pacific region, Chuzhou also features the integrated expert measurement center Panelis, which we use at sites around the world. Panelis is where we observe food acceptance by cats and dogs.
Just like the rest of our new pet food sites, this plant is LEED-certified, at the coveted silver level. At the plant, we use low-consumption or highly efficient electrical equipment for light fixtures and air conditioning. We have also insulated the buildings well and installed taps with low water consumption. We are also supporting the use of electric vehicles by providing charging stations for e-bikes and electric cars. This is how we've prepared for a successful future in the region.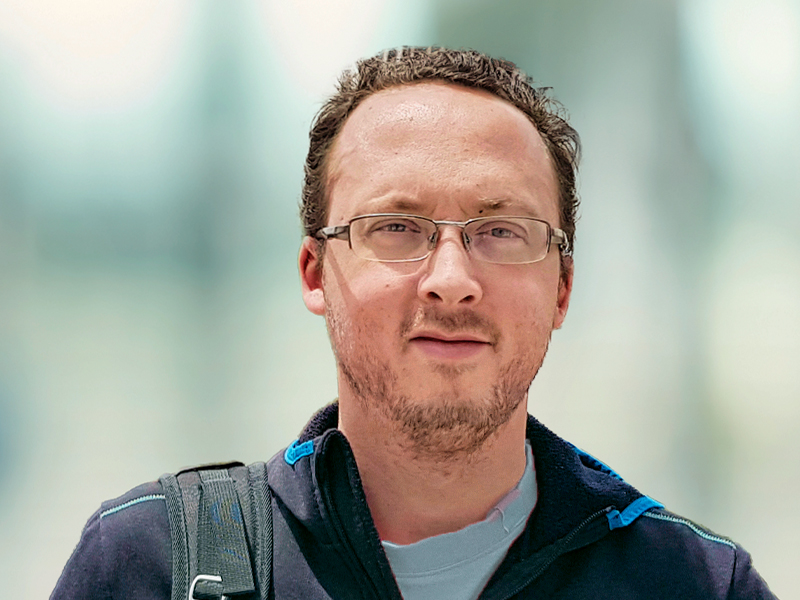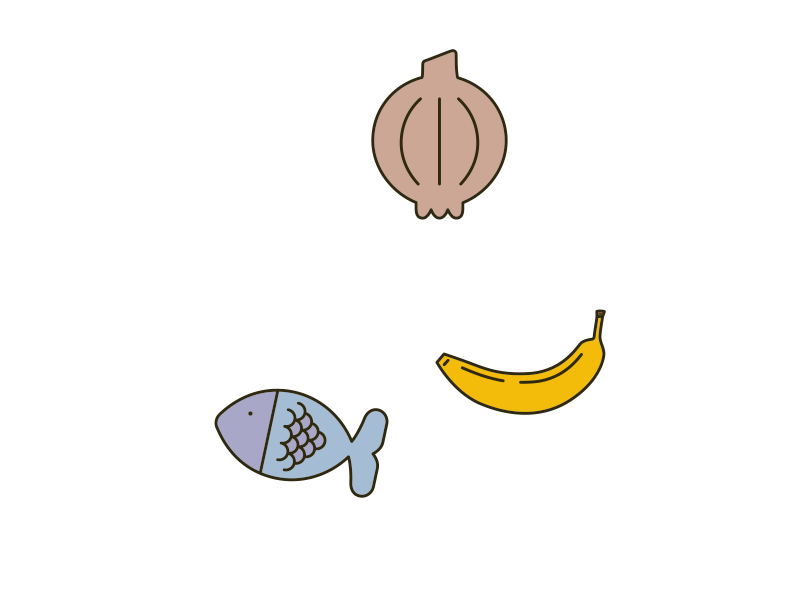 Thierry Lenice, Head of the Sidestream Upcycling Platform in the Business Incubation Group for Taste, Nutrition & Health
One of the tasks of our Sidestream Upcycling Platform is to find sensible ways to recycle the byproducts of meat, seafood, fruits and vegetables processed in our factories of Naturals, Business Unit of Symrise Food & Beverage. We are developing natural processes to achieve this, one of which is bioconversion. Bioconversion involves feeding flies larvae with fruit and vegetable byproducts for roughly seven to nine days. From the larval stage to their mature stage, the larvae absorb a very high amount of protein and concentrate some compounds. Once they are mature, we freeze the larvae and use them to produce two end products: insect flour, which we aim to use in products for aquacultures and pet food, and insect oil, which can be used as a technical ingredient in cosmetics and other areas. We also collect all the waste the insects produce and have it spread on fields as organic fertilizer.
In our tests so far, we have tried out six different sidestreams, including celery, onion pomace and banana peels. The process works – now we want to know which products have which benefits, for instance, if a specific kind of insect flour can demonstrate health benefits thanks to the compounds ­bioconcentration like beta-carotene. Over the next few months, we will evaluate how these products can be used and also how they can be produced on a larger scale.