In 2022, Symrise purchased the Dutch company Schaffelaarbos that pro­cesses the by-products of egg production into products for the pet food industry. These dried egg products contain valuable proteins and fats that promote growth as well as certain bioactive compounds which have a positive effect on the health of animals. The company's approximately 50 employees have developed a functioning circular economy that processes sustainably used raw materials to create further value. The products complement the port­folio of Nuvin, the nutrition brand of Symrise Pet Food.
INNOVATION AND DEVELOPMENT
Chickens lay eggs on a daily basis at large hatcheries, with the hatched chicks sold to farmers as laying hens. However, there is a degree of unpredictability for the facilities, as 10 % to 15 % of the tens of thousands of eggs produced there do not contain an embryo and are therefore considered as side streams. The hatcheries that provide chickens for meat cannot use the unfertilized eggs either. This is where Schaffelaarbos comes into play. The Dutch company uses the eggs to obtain valuable ingredients for animal feed, among other things.
Symrise purchased the company based in Barneveld, Netherlands, in 2022. It was established as a chicken hatchery in 1953 and has been active in the egg protein market for around 40 years. The com­pany is a good fit for the Group's pet food portfolio and, like many other Symrise business units, promotes the circular economy: For instance, the eggs that Schaffelaarbos uses are not approved for human consumption, but rather than being disposed of, they are processed as a by-product using a sophisticated technique.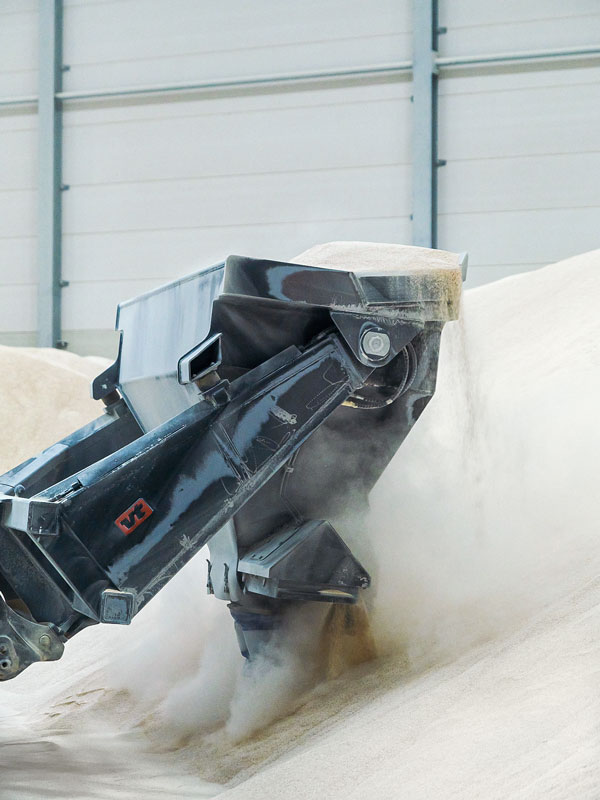 Sales and marketing manager René Valks demonstrates how that works in the plant's sparkling clean halls around 20 kilometers east of the city of Amersfoort. Hundreds of thousands of eggs are processed here every day. "We purchase them from more than 100 suppliers at various locations, from England, Scandinavia and Italy to Hungary, Poland and the Netherlands," says René Valks standing in front of a row of silver 1,000-liter tanks containing around 18,000 broken eggs. The supplier immediately conserves and refrigerates them to keep them fresh, as microbiological processes would otherwise start and the eggs could spoil.
A press at the Schaffelaarbos factory separates the shells from liquid egg – the yolk and egg white. René Valks demonstrates the different processing methods passing through a plant with almost no one inside. Of the 50 employees, around half of whom are drivers, only a few are at the production facility on a daily basis, as the processes are almost entirely automated. The evaporator heats the liquid eggs to the point where they lose about 40 % of their water content. "At the end of the process, we have different products such as a fine powder and small pellets that contain just 6 % moisture," René Valks, who has been with the company since 2017, explains.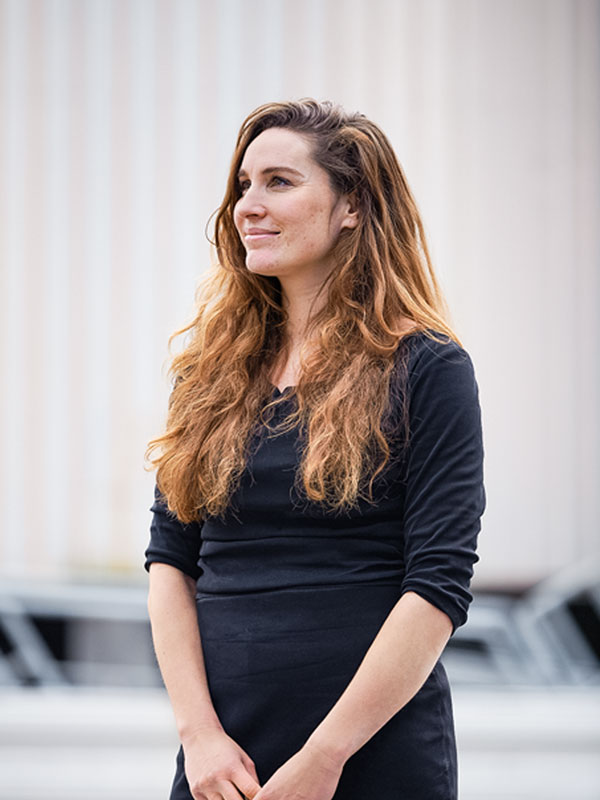 "With our egg-based products, we provide interesting ingredients for pet food production."
Nienke Bosma
Research and Development Manager at Schaffelaarbos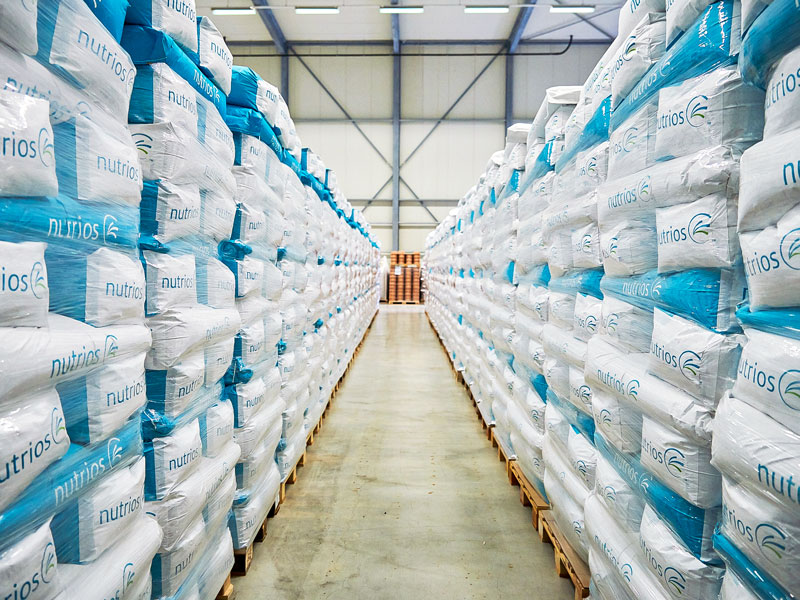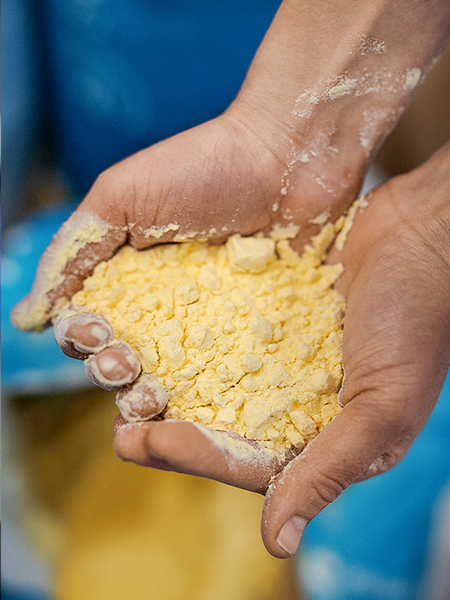 He and his colleague Nienke Bosma then take a look at the results in a different part of the hall. "With our egg-based products, we provide interesting ingredients for pet food production," the research and development manager at Schaffelaarbos says. She reaches into a sack and pulls out a handful of light-yellow powder. "Eggs are made up of very different components that can have a big impact on animal feed – for example, for pets such as cats and dogs," she says. For example, the yolk contains immunoglobins, which are effective against disease-causing bacteria like salmonella and E. coli, as well as cholesterol, which helps young animals during their growth phase. The egg white, on the other hand, is full of the ovotransferrin protein and the lysozyme enzyme, which also promote animal health.
The logo of the Symrise pet food nutrition brand, Nuvin, is visible on the sacks. Intensive collaboration forms the foundation for the brand, says Nienke Bosma. "We have bi-weekly video conferences with our colleagues in other research and development departments in the Group and share our knowledge." Improving products and better exploiting by-products are just two of the goals.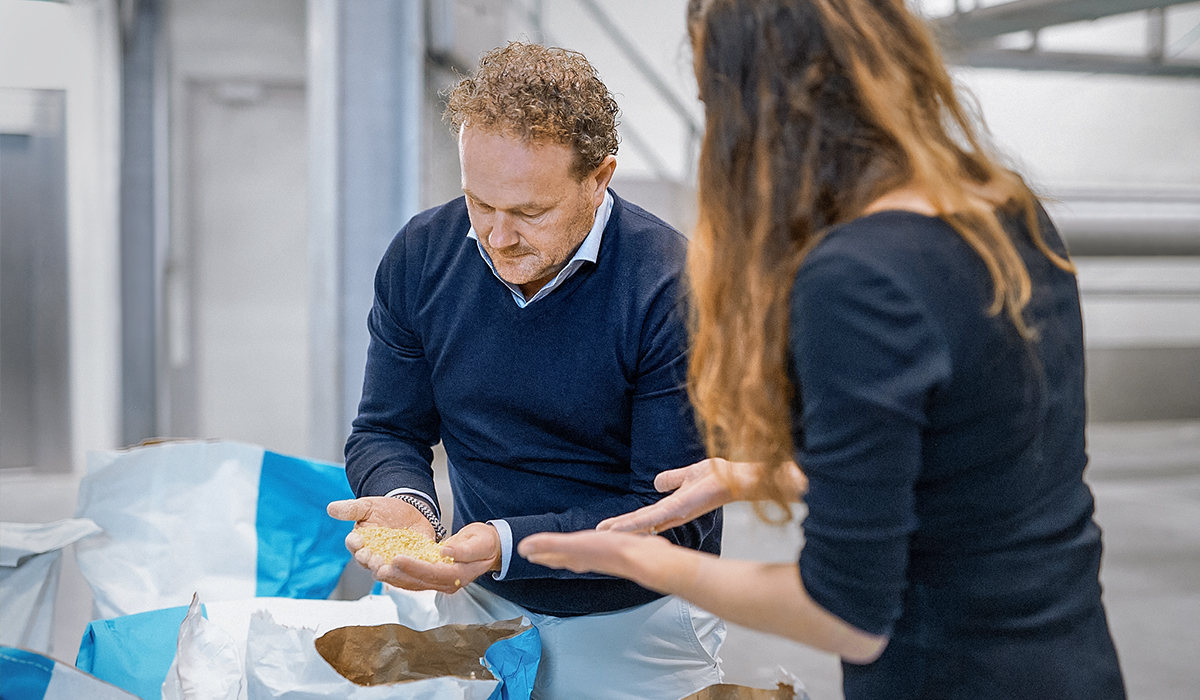 René Valks and Nienke Bosma check the various end products together in production.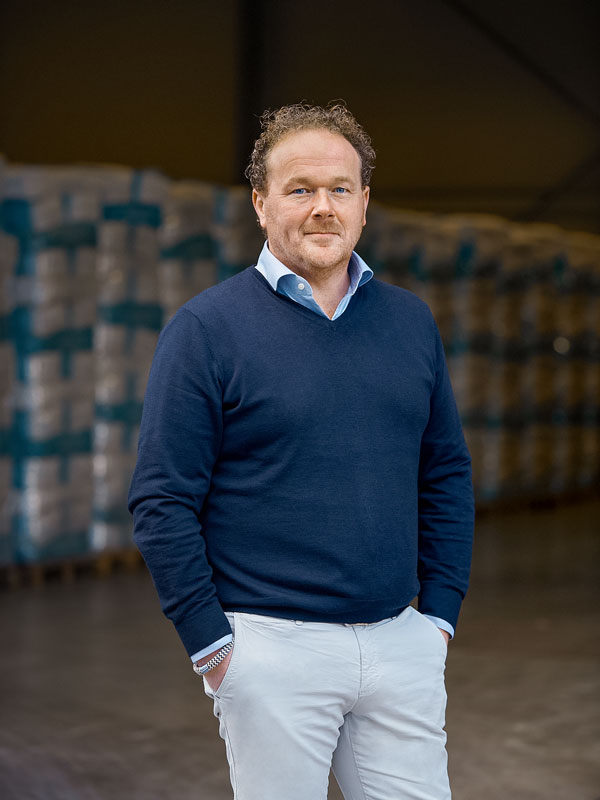 "There is up to 30 % egg protein in an animal food mixture."
René Valks
Sales and Marketing Manager at Schaffelaarbos
Nienke Bosma and René Valks then enter the warehouse, which also houses the company's other products. Large pallets hold round objects that are roughly the size of a soccer ball and have a hole in the middle. "Those are pecking stones, which are produced from the eggshells," explains Nienke Bosma. The pecking stones are placed in chicken coops so that the animals can keep their beaks short in a natural way. Schaffelaarbos also produces a variety of powders from the eggshells, which in turn are used as a source of calcium in food for young animals.
Schaffelaarbos products are in high demand. The company, which is set to grow in 2023, supplies around 80 pet food manufacturers primarily in Europe, with a fifth of all production going to Asia mainly Thailand and Japan. Customers use Schaffelaarbos products in hundreds – if not thousands – of end products, René Valks informs. "We supply egg proteins, which account for one to five and sometimes even 30 % of a food mix." The market is continuously expanding, and Schaffelaarbos benefits from several trends. With the global population growing, more and more people have pets and want them to have the best nutrition. The number of vegetarians is also on the rise worldwide, many of whom want to feed their cats and dogs without meat and fish products. "Our products with egg offer a good protein alternative that's also 100 % natural and can feature a clean label," René Valks says.
Animal welfare also plays an increasingly important role when it comes to raw materials. Take for instance hatcheries for laying hens, which cannot sell male chicks for obvious reasons. While these day-old chicks were often simply killed in the past, this can now be prevented with modern diagnostic methods. "A variety of technologies are used to determine the sex of the embryo between 9 and 13 days," explains Nienke Bosma. "The 'male' eggs are removed, and we can process them into high quality protein ingredients for pets, too." With research gaining ground, soon it will be possible to determine the sex of embryos even earlier – after three days.
Schaffelaarbos therefore helps to improve animal welfare, increasing its basis of raw materials in the process. The company is also working in a consortium with universities, other processing companies, suppliers and customers to update the classification of raw materials. For example, current regulations prohibit the use of the remaining shells when chicks are hatched at hatcheries. "We would like to develop a safe value chain for by-products with nutritional- physiological potential, with the guarantee that these do not pose any risks to animal health," says Nienke Bosma. "Then we'll be better able to evaluate them, eliminate high disposal costs for the hatcheries and establish a complete circular economy in our supply chain model."
In another project, Schaffelaarbos is attempting to extract the lysozyme enzyme from a special egg white by-product that can have a positive impact on animal health. "As a natural antibiotic, the enzyme can kill certain bacteria," explains Nienke Bosma, who works with the Dutch company Bioseutica on the state-funded research. She makes it clear that other Symrise brands can also benefit from this project. "We learn and benefit from each other in many areas."